Women's Distance Festival 5K
Rockland's #1 Women's Only Race!
For over 30 years, the Women's Distance Festival 5K has been the only women's running or walking event in Rockland County. Ladies, this is YOUR race – so come join us for the 33rd Annual Women's Distance Festival on Saturday July 11th, as we unite in our goal of 1000 women and girls strong. This race is presented by Rockland Road Runners and as always the proceeds will benefit the Center for Safety and Change.
Race Info:
The course is a scenic USATF certified lakeside loop, flat, fast and fun! Awards to the first three finishers overall and age groups 13 and under to 70+. Also Mother/Daughter and Sister/Sister categories (runners only). Trophies awarded to #1 overall finisher in 5K run, #1 overall walk finisher, and #1 team champs.
Overall winners of BOTH the run and the walk will receive $100.
Kid's Fun Run at 7:30AM before event at 8:00am sharp. T-Shirts guaranteed to the first 1000 registrants.
THERE WILL BE NO RACE DAY REGISTRATION
USATF Certification #NY05017AM
Race Day Schedule
THERE WILL BE NO RACE DAY REGISTRATION
6:30am – Race check-in begins

7:20am – Last check-in for kids' fun runs

7:30am – Kids' Fun Run begins

7:40am – Warm-Up

7:45am – Last check-in for 5K

8:00am – 5K and walk begin

8:55am – Awards Ceremony
Note: Arrive before 8:00AM to avoid NYS Park imposed parking fees.
Advance Signup & Packet Pick-Up
As always, we will be providing advance race packet pick-up (race number, T-shirt and goodie bag) as well as another opportunity to sign up for the race:
Friday, July 12, 2019 – 12:00 – 8:00 PM at Dick's Sporting Goods, Palisades Center Mall.
For our younger viewers
As in the past, the kids run will be free. These races are really catching on and are a lot of fun. The runs are just a few hundred yards, but they are a joy to watch and they happen within a short enough time of the 5K race that there isn't a lot of hanging around involved.
All other details…
Questions regarding the whys and wherefores of a woman's race or racing in general (should you be a first-timer) can be found on our FAQ page. To contact us via email, click here.
Hopefully YOU will be found toeing our starting line on July 13th. As you know we welcome runners and walkers, one and all. We are really looking forward to seeing you there!
Fees
5K Race – RRR members until July 8: $25.00
5K Race – non-RRR members, until July 8: $30.00
5K Race – Ages 19 and under, and 60+ until July 8: $25.00
Team entries – 5 or more entrants per team ($25.00 p/p entry fee applies to teams of 5 or more. See online registration for complete team info.)
– Scoring is based on top 3 runners from each team.
Mom – Daughter, Grandma – Granddaughter or Sister – Sister team (runners only)
$50.00 at least one RRR member – $60.00 non-members
From July 8 to race day, fee is $40 for all. No exceptions.
THERE WILL BE NO RACE DAY REGISTRATION
Special Rates
(Pre-registration only!) We have a very popular flat student rate of $25.00 for participants who are 19 and under. And for the not-quite-so-young we have the same $25.00 rate for participants aged 60+.
Make checks payable to Rockland Road Runners

Mail to RRR-Women's Distance Festival, Box 435, Congers, NY

10920

Due to NYS Park regulations, a parking fee is charged after 8:00am

RRR's insurance policy prohibits use of strollers, headphones or skates in the race
All proceeds of this event will benefit: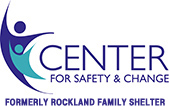 FAQ

Answers to a few of the questions we hear most often…

Why is the race always held on a Saturday?
Given the pick of Saturday or Sunday, we realize that either choice involves losing participants for various reasons. This race has always been held on a Saturday and we feel we should be consistent. If you feel strongly about this please let us know.

Why is it a women only race? Isn't it about time you included men?
There are two issues for us here. One is that the race receives some sponsorship on the basis that it is for women only. Remember all proceeds from the race go to benefit the Center for Safety and Change (formerly Rockland Family Shelter) and we want to raise as much for them as we can.

We also feel that it is still important to offer our competitors the chance to be "The Winner" rather than the "First Woman" especially since women are often short-changed in media coverage of other races.

Couldn't you just have a men's fun run after the women's race?
This has been asked many times. First, there would be significant administrative problems. By the time the run/walk is over at about 8:45, it's a bit late to start a race in mid-July. In addition, we would need several more experienced volunteers to handle another race, even without official timing.

We also feel any simultaneous or additional event which would include men would detract from that day's celebration of women. Women deserve to enjoy their race on their morning – and the guys are welcome to cheer or volunteer or both.

Well, do you want to know what I think?
Yes we do! Just click here to send us a message.

Honor Roll

Finishing Times Under 19:00

Name
Place
Year
Time
Age Group
Donna Combs
1st
1993
16:05
25
Gillian Beschloss
2nd
1993
17:04
34
Donna Combs
1st
1992
17:05
24
Milka Jepchirchir
1st
1999
17:07
21
Katie Bologa
2nd
1999
17:12
25
Martina Hoppe
2nd
1992
17:18
20
Grace Kahura
1st
2014
17:21
20-29
Shelby Greany
1st
2009
17:22
1-19
Anne Leary
3rd
1993
17:22
n/a
Shelby Greany
1st
2011
17:23
20-29
Sheila Casey
2nd
2009
17:25
40-49
Shelby Goose (Greany)
1st
2018
17:26
20-29
Ana Rios
4th
1993
17:28
30-34
Janice Morra
1st
1989
17:30
30
Lori Jorgensen
1st
1991
17:30
32
Janice Morra
3rd
1992
17:35
33
Julie Mintz
4th
1989
17:39
25
Janice Morra
1st
1990
17:39
31
Salome Kosgei
1st
2015
17:44
34
Janice Morra
1st
1996
17:51
37
Barbara Remmers
1st
1998
17:51
34
Caroline Pennacchio
2nd
2015
17:54
17
Jennifer Reda
4th
1993
17:54
20-24
Katie Guarracino
2nd
1998
17:57
24
Katie Bologa
1st
2004
17:58
n/a
Alissa Henning
4th
1992
18:01
24
Julianne Littman
2nd
2004
18:08
27
Kathleen Amato
5th
1992
18:12
26
Claudia Porfilio
6th
1993
18:12
25-29
Rita Keahon
7th
1993
18:13
28
Shelby Greany
1st
2008
18:15
17
Julie Lemmond
3rd
1998
18:16
31
Sheila Casey
2nd
2011
18:16
40-49
Jan Vermilye
2nd
1991
18:17
42
Rita Keahon
6th
1992
18:17
27
Caitrin Demchko
3rd
2015
18:19
25
Natalie Tanner
4th
2015
18:19
20
Linda Higgins
1st
1997
18:20
30
Charlotte Rizzo
1st
2006
18:20
43
Linda Higgins
2nd
1989
18:21
26
Katie Guarracino
2nd
1997
18:25
23
Caroline Pennacchio
2nd
2014
18:25
1-19
Jean Velasquez
4th
1998
18:27
35
Julianne Viscardo
5th
2015
18:28
35-39
Sandra Natal
8th
1993
18:28
30-34
Jill Vollweiller
3rd
1997
18:28
25-29
Lauren Tushband
3rd
2004
18:29
n/a
Shelby Greany
1st
2005
18:31
14
Sheila Casey
2nd
2008
18:31
35-39
Caitrin Demchko
3rd
2014
18:31
20-29
Shelby Greany
2nd
2006
18:33
15
Patti Zoda
3rd
1989
18:34
18
Alyson Homko
3rd
1991
18:34
0
Cathleen Ford
3rd
2006
18:35
n/a
Kelly Thompson
4th
2006
18:35
29
Libby Lazare
4th
2014
18:35
20-29
Grace Behrens
2nd
2005
18:38
38
Janice Morra
3rd
1999
18:39
40
Tara Maquire
5th
2006
18:41
35
Nicolette Nesi
6th
2015
18:43
20-24
Shelby Greany
1st
2007
18:45
16
Sheila Casey
5th
2014
18:45
40-49
Debbie Adams
2nd
1990
18:46
43
Linda Higgins
2nd
1996
18:46
29
Sue Yockelson
9th
1993
18:47
30-34
Erin Haugh
4th
1999
18:51
19
Caitrin Demchko
1st
2013
18:52
20-29
Jacqueline Shapiro
10th
1993
18:52
n/a
Charlotte Rizzo
2nd
2007
18:53
45
Peggy Caffrey-Neil
1st
2002
18:54
29
Heidi Everett-Powers
1st
2003
18:54
26
Jamie Lord
7th
2015
18:56
19
Jan Vermilye
7th
1992
18:57
43
Christina Nooney
5th
1998
18:57
32
Kelly Thompson
1st
2010
18:58
30-39
Libby Lazare
8th
2015
18:59
20-24

Age Group Records

Shelby Greany
2005
18:31
14 & under
Caroline Pennacchio
2015
17:54
15-19
Donna Combs
1992
17:05
20-24
Donna Combs
1993
16:05
25-29
Gillian Beschloss
1993
17:04
30-34
Janice Morra
1996
17:51
35-39
Sheila Casey
2011
18:16
40-49
Anna Thornhill
1999
20:31
50-59
Toshiko D'Elia
1996
22:40
60-69
Toshiko D'Elia
2003
26:22
70+
Muriel Merl
2006
34:15
80+

Phrase Contest Winners

| | | |
| --- | --- | --- |
| Year | Phrase | Name |
| 2018 | "She believed she could so she did" | Amanda Trigg |
| 2017 | "Rise up, Never Look Back" | Stacey Belhumer |
| 2016 | "Strength comes from within, show them what you are made of" | Charlene Labenda |
| 2015 | "If it does not Challenge you, it does not change you" | Kathy Payne |
| 2014 | "I run like a girl, try to keep up" | Claudia Cohen-shirt designer |

Hall of Fame – How do I qualify?

All you have to do is run or walk with us three times or more – you must show up on race day – an entry isn't enough. We have put together this list of those who we know qualified by participating in 3 out of the past 4 years. However – we do not have information on: Walkers who have been with us on race day before 2005, or those who have participated in any of the years prior to 1998. So – if you know you should be on this list – and we know there are quite a number of you, please send us an email and we'll be very happy to add your name. (We will never pass your email address on to anyone – so no need to worry about that.) Current inductees in the Hallowed Hall:

| | | |
| --- | --- | --- |
| Stephanie Kearney | Connie Kearney | Carissa Coslit |
| Caroline Pennacchio | Dawn Brega | Tracy Ward |
| Gail Cirlin-Lazerus | Lisa Rosenfeld | Laura Parisi |
| Leslie Kogan | Kerry Villamil | Kristen Lowenwirth-Farrell |
| Maureen Holmes | Angela Hanson | Maria Rodd |
| Norma Canals | Toni Bracconeri | Di Li Yang |
| Suzanne Bernstein | Patti Gindoff | Ann Marie Smith |
| Gail Machado | Eileen Hickey | Mylene Smith |
| Amy Wiener | Charlene Labenda | Mercedes Kent |
| Lindsay Gross | Carmel Reilly | Sophia Fernandez |
| Julie Wendholt | Kim Molke | Melissa Sorce Denicola |
| Madison Holland | Sue Theise | Juliene Bell-Smith |
| Grace Fattal | Mary Pat Wolff | Suzanne Wexler |
| Trudy Album | Enilda Indyk | Jessica Romaniuk |
| Harriet Allen | Cheryl Kalter-Schloss | Ellie Salmon |
| Vidya Bhat | Julie Kassel | Mary Scanlon |
| Jean Bolton | Kathy Kellogg | Patricia Scanlon |
| Kate Bolton | Teresa Kenny | Susan Schwartz |
| Eileen Broderick | Marie Killeen | Pat Sheehan |
| Peggy Caffrey-Neil | Debbie Larison | Lauri Sylvester |
| Mary Collins | Kerry Martarano | Harriet Teplitzky |
| Sheila Conklin | Eileen McCabe | Lisa Thielman |
| Kathleen Daly | Ann McGrath | Carole Tondi |
| Heather Douglas | Liz Miedowski | Susan Theise |
| Barbara Druckman | Janice Morra | Gladys Velazquez |
| Alexandra Finger | Lorraine Nizzardini | Kathleen Veralli |
| Sherri Goffman | Barbara Noyes | Robbin Vinson |
| Margie Goldstein | Anne Oakley | Liz Vonwurmb |
| Diane Grammerstorf | Marcia Polish | Lorraine Waitman |
| JoAnn Hodges | Christinge Ritenis | Jaime Whitehurst |
| Patricia Howell | Myrna Rivera | Pamela Wild |
| Margot Malin | Marilyn Gambardella | Evelyn Stewart |
| Shelby Greany | Sheila Casey | Laura DiMarino |
| Debbie Brathwaite | Casey Kohut | Ann Mitlof |
| Amy Stern | Liz Heneghan | Kim Chalfin |
| Jennifer Nicoll | Sabrina Greco | Kate Tormey |
| Shannon Kay | Veronica Kay | Suzy Trainor |
| Julie Trainor | Ann Smith | Ginger (Virginia) Rocchio |
| Barbara Willen-Graham | Ciarra Jersey | Renee Pereira-Jersey |
| Colleen Dudek | Toni Bracconeri | Anne Nissen |

25 Club: Teams with 25 or more members

Team
Number of Members
Year
The Academy for Martial Arts
104
2019
Jersey Women Strong
92
2017
ML Faves for Good/Nyack Boot Camp
81
2019
ML Faves for Good
79
2018
Jersey Women Strong
78
2018
#MLFaves@MariaLuisa
74
2017
Jersey Women Strong
64
2019
The Academy For Martial Arts
62
2018
Ride Cycling Studio
58
2019
Rockland Road Runners
45
2018
Retro Fitness of Tappan/Pearl River
44
2017
Rockland Road Runners
41
2017
Van Cortlandt Track Club
40
2017
Fitness 450
34
2018
Personal Best Race Training
33
2018
She Runs This Town – Orangetown
33
2018
Just Us Girls
32
2017
OrangeTheory Fitness Femmes
30
2018
Rockland Business Women's Network
27
2017
Personal Best Race Training
26
2019
Rockland Women's Business Network
25
2019

Honorary Race Director Club

Cheryl Kalter-Schloss and Ann McGrath-Angarola — founding Race Directors: 1988-1993
Larry Wolf — co-director 2005 and 2006 and Director 2007-2012 — 8 years of dedicated leadership

Sponsorship

How Can I Become A Sponsor?

This page is for those of you who might be interested in sponsoring our race and the Center for Safety and Change (formerly Rockland Family Shelter), but are not really sure what sponsorship involves. We have three main levels of sponsorship as follows – all contributions are tax deductible.

---

Gold: $750

Company name on mile marker prominently displayed on race course
Prominent positioning of company name on race application
Placement of insert/flyer in race packet
Banner displayed at race (must be provided by company)
Acknowledgement during event
Company name on race website
Opportunity to set up display table for self promotion (must provide own table)
Six complimentary race registrations, plus six complimentary technical race tee shirts

---

Silver: $500

Prominent positioning of company name on race application
Placement of insert/flyer in race packet
Banner displayed at race (must be provided by company)
Acknowledgement during event
Company name on race website
Opportunity to set up display table for self promotion (must provide own table)
Four complimentary race registrations, plus four complimentary technical race tee shirts

---

Bronze: $250

Prominent positioning of company name on race application
Placement of insert/flyer in race packet
Acknowledgement during event
Company name on race website
Two complimentary race registrations, plus two complimentary technical race tee shirts

---

Winner's Cup: $1000.

Same benefits as GOLD – Winner's Cup named after your company

Finish Line Sponsor:

Same benefits as GOLD – Company name and logo on finish line banner

---

For more information, contact race director Michael Seidenfrau