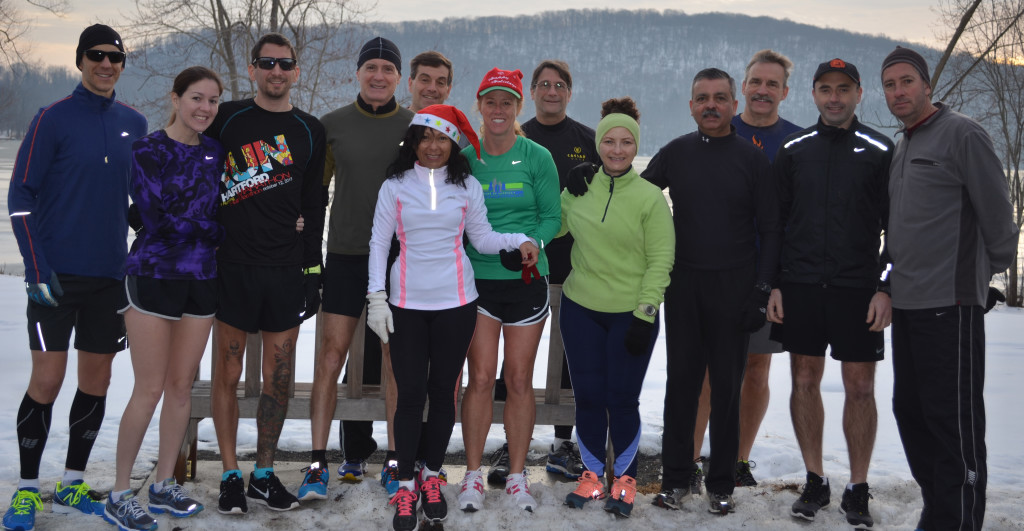 Why run alone? We have group runs scheduled almost every day throughout the year, with many impromptu runs at Rockland Lake State Park. Group numbers and distances vary from day to day and sub groups tend to from based on training and pacing goals. Runners of various levels participate regularly, and newcomers (of all levels) are always welcome!
We typically do short – long runs at Rockland Lake, track work at Pearl River High School Track, and some long runs up at Harriman State Park. Of course, we're always hitting the local road and other great spots like the Joseph B. Clarke Rail Trail and Nyack Beach Running Path. If you've never done a "firehouse loop" or if you don't wince in pain when you hear "Arden Valley", it's time to come for a group run!
Typical Group runs:
Monday
Tuesday
Wednesday
Thursday
Friday
Saturday
Sunday
 

7:00PM

7:00PM

7:00PM 
Blue Workouts are at Rockland Lake, start at Parking Lot #6 (Fishing, Comfort Station and Boat Rental area)
Red Workouts are at Pearl River High School, May-August (see Summer Track for workout info)
Green Workouts are at Pearl River High School, September-April and are generally speed work (Tuesday) and tempo (Thursday)
We recommend arriving 10-15 minutes early, to stretch and warm up before your run. Dress comfortably and according to the weather.After our the workout we'll generally grab breakfast, lunch, or a beer so the fun never stops!
Always keep an eye out for new group runs!
We're always trying to map out of favorite running routes and share them with others! Below are some member submitted routes that many of us follow, including Rockland Lake and Harriman State Park. If you have a route you want to share, let us know!
*Harriman State Park maps courtesy of Logan Scott