The Rockland Road Runners' 5 Mile Turkey Trot for The Marisa Fund has become the largest running event in Rockland County, drawing over 3100 participants from the NY Metro area and beyond. 2013 will be the 22nd Annual Run and the money raised will support the efforts of the Marisa Fund to eradicate childhood cancer. Join us Thanksgiving morning at Rockland Lake for a truly memorable running experience!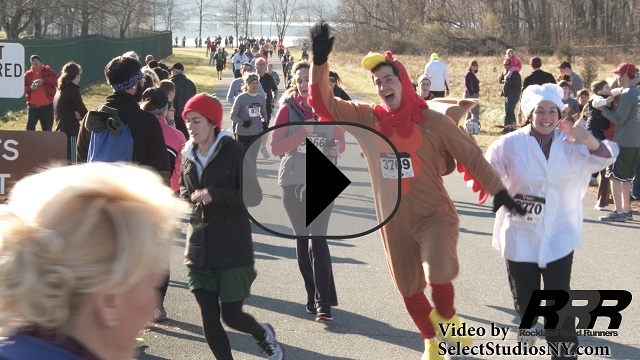 Countdown to the start of the 2014 Turkey Trot:
Our race features:
USATF Certification # NY03014AM
Online registration via RunSignUp.com
Pre-Race Registration & Race Packet Pickup:
Monday, Nov. 24; Tuesday, Nov. 25; and Wednesday, Nov. 26 from 12 noon - 8:00pm
Modell's, 2nd Floor, Palisades Center Mall (west end of mall)
Food Drive to benefit "People to People" (see info at right)
Long-sleeve TECHNO shirts
[Advance registration only - No race day registration]
B-Tag scoring by Super Race Systems - Scoring chips will be part of your race number. No chip or tag needs to be attached to your shoe. Click for B-Tag instructions.
Our scoring system features electronic timing from Starting Line to Finish Line. Your individual "net time" begins when you cross the Starting Line. Start anywhere in the crowd and be timed accurately!
Next day results available at this website
Special thank you to the following supporters:
New York State Park Police
Rockland County Sheriff's Dept.
Clarkstown Police Dept.

NYS Dept. of Environmental Conservation Police
Hillcrest Fire Dept.

Palisades Interstate Park Commission
Rockland Lake Staff
Congers-Valley Cottage Volunteer Ambulance Corps.

The Salvation Army
Rockland County Police Hispanic Society
Mike Greco - Thanks for 13 years!

Run with us on Thanksgiving morning and eat guilt-free on Thanksgiving afternoon!