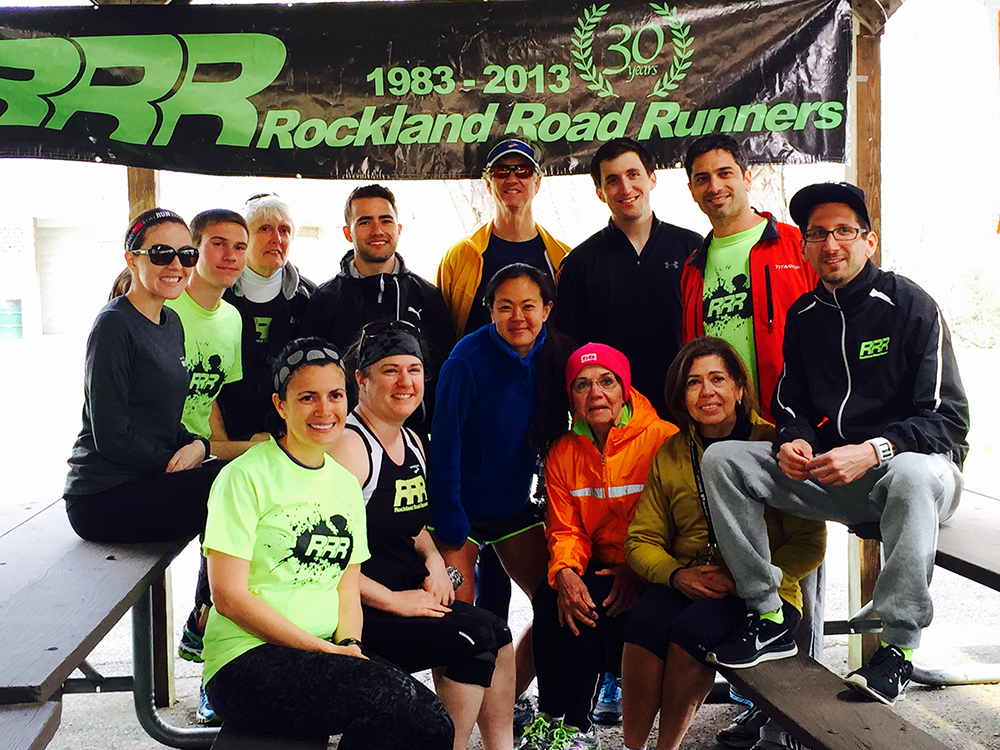 It was a picture perfect spring day at Thomas Bull Park in Orange County for the 2015 Inter-Club Challenge. Rockland Road Runners was put up against Orange Runners Club and Sullivan Striders to defend the 2014 victory.
Orange showed up in numbers, hungry to get the trophy back and although Rockland ran a fast race, securing top 3 males and 2/3 top females, Orange was able secure many of the age group and participant points giving them the lead. The final tally gave Orange the victory for 2015!
First Place
Orange Runners Club
185 points / 41 paricipants
Second Place
Rockland Road Runners
161 points / 16 participants
Third Place
Sullivan Striders
128 points / 21 participants
A total of $800 was raised and will be donated to Dr. Mike Rogan, a Rockland Track Hall of Fame inductee and former Clarkstown North and Notre Dame track star who suffered a traumatic brain injury from a fall. The money will be used to help offset the increasing amount of medical related costs that Mike has had to deal with. We love seeing our clubs come together to help other local runners in need.
A big thank you again to all of the clubs and every runner, volunteer, and spectator that came out! A special thank you to Dane Groszek, Dave Badolato, William Schneider, and Donald "Mac" Thurston
2015 Scoring:
| | |
| --- | --- |
| Age/Catagory | Points 1st-2nd-3rd… |
| Overall | 25-20-15 |
| Under 20 | 8-5-3 |
| 20-29 | 10-8-5 |
| 30-39 | 10-8-5 |
| 40-49 | 12-10-8-5-3 |
| 50-59 | 12-10-8-5-3 |
| 60-69 | 12-10-5-3 |
| 70+ | 8-5-3 |
| All others… | 2 points |
Overall Males:
1. Luke Gavigan – Rockland
2. Greg Laraia – Rockland
3. James Meyers – Rockland
Male Age Groups
Under 20
1. John Parsells – Orange
2. Jecomy Finnigar – Orange
3. Therin Dale – Orange
20-29
1. Tim Billias – Sullivan
2. —
3. —
30-39
1. Jonathan Farrell – Rockland
2. Evan Morgan – Orange
3. John MacKenzie – Rockland
40-49
1. John Sellstrom – Sullivan
2. Donald Thurston – Sullivan
3. Erik Sellstrom – Sullivan
4. Brian Keenan – Orange
5. Jeff Liwtz – Orange
50-59
1. Frank Colella – Sullivan
2. Tom Manza – Sullivan
3. John Losardo – Orange
4. Drew Priest – Orange
5. Steve Brockett – Orange
60-69
1. George Shunter – Orange
2. Carl Zuidema – Orange
3. J. Insignares – Orange
4. Pat Brown – Orange
70+
1. Lornie MacDonald – Orange
2. Rea Limuto – Orange
3. John Singer – Rockland
Overall Females:
1. Diane Welch – Orange
2. Ayako Yamazaki – Rockland
3. Kristen Lowenwirth – Rockland
Female Age Groups
Under 20
1. Isabella Falcon – Sullivan
2. Korinne Finnigan – Orange
3. Gabriella Falcon – Sullivan
20-29
1. Allison Billiais – Sullivan
2. Sarah Andryshak – Orange
3. —
30-39
1. Kelly Irving – Sullivan
2. Angela Hanson – Rockland
3. Elizabeth Susen – Orange
40-49
1. Melissa Giraldez – Rockland
2. Susan Plocharczyk – Orange
3. Joann Andryshah – Orange
4. Joann Nowak – Orange
5. Melissa McChrey – Orange
50-59
1. Joanne Shurter – Orange
2. Karen Parzelt – Orange
3. Kathleen Daly – Rockland
4. Abby Thurston – Sullivan
5. Deanne Zawistroski – Orange
60-69
1. Kim Flynn – Sullivan
2. —
3. —
4. —
70+
1. Marie Killeen – Rockland
2. Enilda Indyk – Rockland
3. Anne Singer – Rockland
Event Photos
Thanks to Dane Groszek and Joseph Falcon for the photos!
View Full Photo Gallery Here: Orange Runners Club