Despite some occasional flurries, spring is finally here. Sunshine and warming temperatures are on their way to Rockland County. It's the time of year when many individuals are motivated to wake up and go outside for a run.
For some people, seeing the light is not so easy. Several factors, whether they are time constraints or health issues, limit an individual's ability to be active. Motivation takes a lot of personal drive and discipline. Sometimes, an individual needs to hit rock bottom or be encouraged by others to get active and stay active.
As our spring races approach, we are launching our "Members on the Run" blog series. Over the next four weeks, we will share stories from our members about how they overcame unique struggles to earn the title of "runner." We hope their stories fuel strength in those who may be experiencing similar challenges. We hope their stories show it is possible for anyone to start running and witness the benefits of it.
Our first member story comes from Carmel Reilly, who is training to run her first half marathon at our Hook Half Marathon & 5K on April 19, 2015.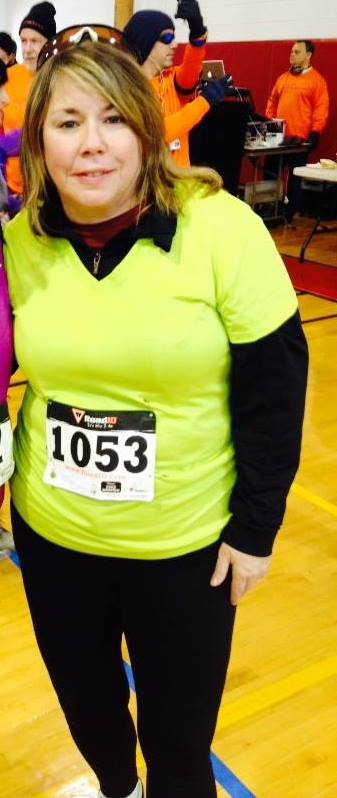 Carmel Reilly
Age: 49
What prompted you to start running?
I wanted to compete in a triathlon, but I didn't enjoy running.
How did you start running?
I started to run on a treadmill. I started slow at a speed of 4.0 miles per hour.
Describe your regular workout routine.
I work out six days a week. On Mondays and Wednesdays I lift weights. On Tuesdays and Thursdays I run outside, anywhere from four to seven miles. On Fridays I do yoga. On either Saturday or Sunday, I do a long run outdoors; my long run is 10 miles.
What was the biggest hurdle to running and how did you get over it?
I resented running. I absolutely hated it. But, I knew if I wanted to do triathlons by myself I would have to get used to running. I got over it because I needed to prove that I was capable of completing a triathlon by myself.
What is the most rewarding part of your running life?
The most rewarding part of running is I came to realize I don't hate it anymore. I actually enjoy waking up to go run at 5:15 in the morning.
What advice would you give to a beginner or someone just starting out?
Find an event you want to do and start off slowly, but steadily, training for it. And don't quit; we all have good days and bad days.
What are your favorite motivational quotes or ways to motivate yourself?
Garth Brook's song, "The River:" "Choose to chance the rapids and dare to dance the tide."
Also, this quote, which I heard recently: "I run, like a herd of turtles through peanut butter, but I run!"
What is your favorite piece of gear?
This past winter I discovered Cold Gear by Under Armour; I love it, especially the shirts. And, of course, my iPhone makes running so much easier.
What is your long-term goal?
I want to complete a half marathon without walking. Although, that might be hard to accomplish at the Hook going up Hook Mountain! Also, while I used to rule out a full marathon, the thought of running one keeps popping up in my head.