On Sunday, April 19, 2015 we had great attendance for the 26th Annual Hook Mountain Half Marathon and 5K run & 6th Annual Walk to Remember. This day will probably always be remembered! We had 605 registered runners and over 400 walkers breaking the race record. We also were very lucky that the weather was perfect for the runners. We had 40 participants in the Children's Run, they all received medals.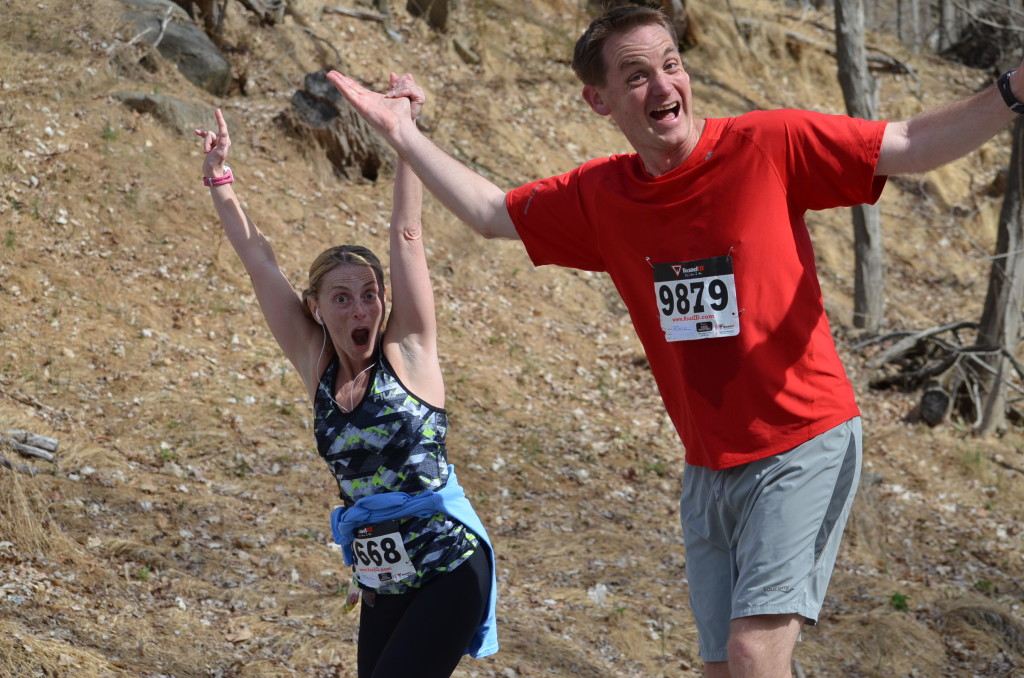 Tim Kuklis of Mount Kisco, New York won the half marathon, with a commanding lead, in a time of 1:19:28 and Jess Hackett of Palisades, New Jersey led the women in a time of 1:38:53. Julie McElroy of Sleepy Hollow, New York won the 5K in 19:37 with Logan Scott of New City, New York leading the men in 19:45.
Jamer Linares of Nyack received the Adi Steingraber award as the first Rockland finisher, in a time of 1:27:40. Great job Jamer! Jess Hackett received the award for the first women Rockland finisher. Congratulations!
We always try to make this race about the runners and this year was no exception. After enduring a brutal winter, our runners not only showed up, but ran and walked like they had been training all year. We had many first time runners conquer 'the Hook' (can you ever conquer the Hook?) and we're very proud of the many kind after-race thanks we received.
We had some great sponsors and plenty of food and refreshments.
We would especially like to thank the volunteers from United Hospice of Rockland and the Rockland Road Runners for making the race an annual success. We have raised over $60,000 for the United Hospice of Rockland, we are sure that George would be very proud. The "Walk to Remember" was very inspirational and brought many more participants both running and walking!
Team Motivation raised the most money; over $1,580 and won the prestigious Avanti Cup!
Those individuals who are always there when you need them: Ken Kinsley our volunteer coordinator, Marie, Bernie, Enilda, Becky, Larry, Bernie, Fred, Kathy, Marie, Alison, Ellen, Amy, Laurie, Lanie , Lisa, all the Volunteers from Hospice, Youth for Hospice, students from around the county, and Rockland Road Runner volunteers. Ken did a super job with the volunteers and the overall race coordination! MJ did a terrific job with the Walk to Remember.
Our lead sponsors were All Bright Electric, Avanti Health Care Services, Caldwell Banker Cares, Dr. Edward & Raselle Fisher, Stop and Shop of New City, The Rand Family, AMA Laboratories, Inc. and Rosemarie & Mark Glasel.
We had another successful event! What a great day!
Thank you to everyone for making this event a most memorable experience. And see you next year…
Steve Borton & Rich Tinger
[column width="1/2″ title="" title_type="single" animation="none" implicit="true"][button id="" style="border-slanted" class="" align="center" link="http://www.rocklandroadrunners.org/races/HMHM/results.html" linkTarget="_self" bgColor="accent1″ hover_color="accent1″ font="18″ icon="arrow-right1″ icon_placement="right" icon_color="accent1″]OFFICIAL RESULTS[/button][/column][column width="1/2″ last="true" title="" title_type="single" animation="none" implicit="true"][button id="" style="border-slanted" class="" align="center" link="https://www.flickr.com/photos/127673865@N07/sets/" linkTarget="_self" bgColor="accent1″ hover_color="accent1″ font="18″ icon="arrow-right1″ icon_placement="right" icon_color="accent1″]RACE PHOTOS[/button][/column]