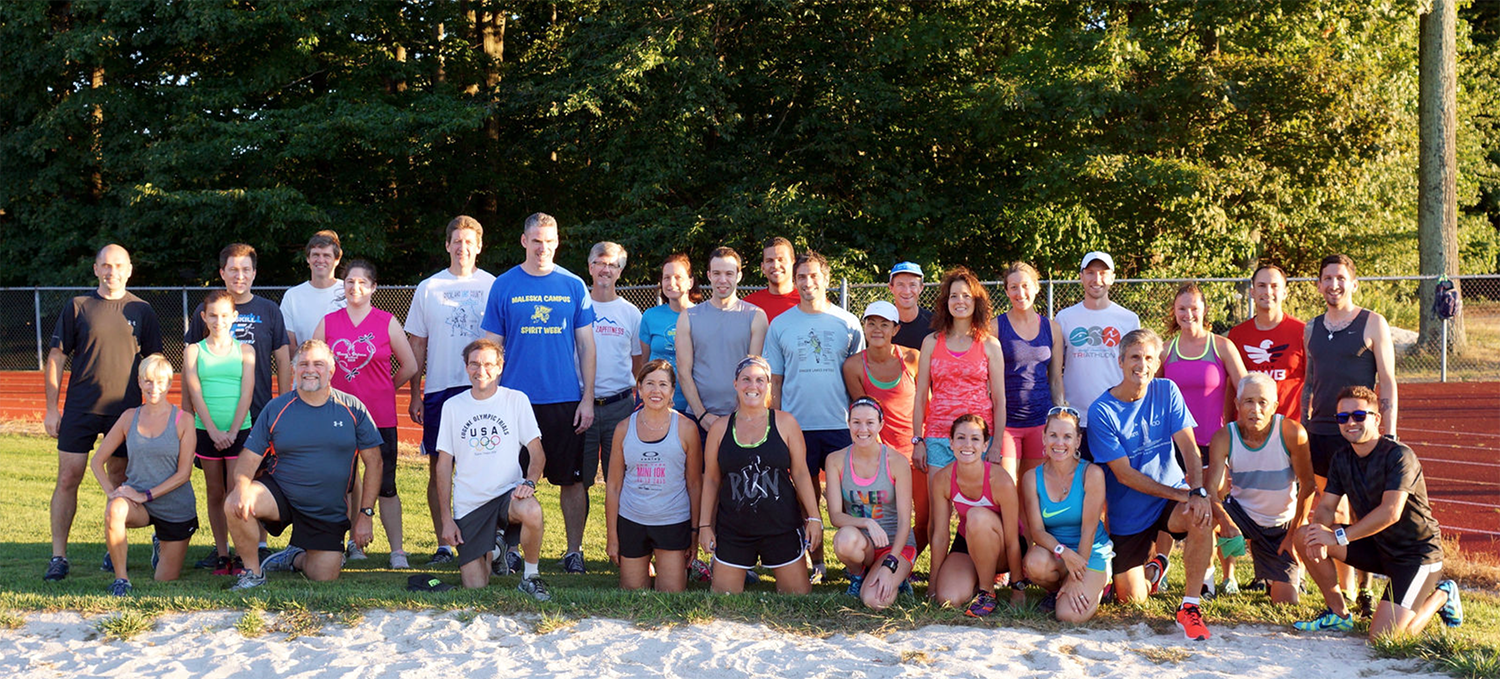 [column width="1/2″ title="" title_type="single" animation="none" implicit="true"]
The 2015 Bill Fortune Memorial RRR Summer Track workouts have come to an end!
We had another great year with apx. 40 runners regularly attending every Wednesday at the Pearl River High School track for the 18-week program. Runners trained to increase speed and strength, boost confidence at faster training paces and generally sharpen one's fitness level.
Coaches Jamie Kempton, Jesse Hackell and Bernie Casserly oversaw the workouts helped runners of all abilities reach their racing and training goals. The training consisted mainly of interval/repetition workouts ranging in distance from 200 meters to 2,400 meters and two off site hill workouts at Bear Mountain and Rockland Lake.
We had a warm, humid, dry summer. For 6 weeks this year we invited our RRR Kids for their own workout before the adults. The program was a huge success with up to 100 kids coming out to run with us! The adults took over the track and burned it up through the long summer days. The hard work paid off when we finished and celebrated another satisfying season with a full blown party hosted by VT with food and drinks provided by the club. We had a great, late night celebrating our summer of hard work!
We would like to thank everyone who took part in the Summer Track workouts this year and we extend an open invitation for all runners of all abilities to lace up those running shoes and join us for another fun-filled season in 2016!
Unofficial group workouts will continue through the winter at Pearl River High School Track, 7:00pm on Tuesday (intervals) and Thursday (tempo).
[button id="" style="border-slanted" class="" align="center" link="https://www.flickr.com/photos/39410263@N02/albums/72157658723664785″ linkTarget="_blank" bgColor="accent1″ hover_color="accent1″ font="18″ icon="arrow-right1″ icon_placement="right" icon_color="accent1″]VIEW PHOTOS[/button]*Photos courtesy of VT, thanks!!
[/column][column width="1/2″ last="true" title="" title_type="single" animation="none" implicit="true"]
2015 SUMMER TRACK
FINAL 3-MILE TIME TRIAL, AUGUST 26, 2015
| | |
| --- | --- |
| GREG LARAIA | 16:16 |
| JOHN ALTIERI | 18:00 |
| JOHN MacKENZIE | 18:09 |
| JONATHAN FARRELL | 19:21 |
| REGNER PERALTA | 19:33 |
| MIKE BECKERLE | 19:50 |
| ROCKY | 20:37 |
| STEPHANIE | 20:42 |
| AYAKO | 20:43 |
| MATT AMMER | 21:06 |
| PETE | 21:17 |
| GARY SCARANO | 21:37 |
| ANGIE | 21:50 |
| KEVIN | 22:12 |
| GRAVITY | 22:24 |
| JEFF | 23:43 |
| STEVE BECKERLE | 24:26 |
| KRISTEN LOWENWIRTH | 25:13 |
| MARY | 25:42 |
| JILL | 25:43 |
| STEPHEN MILLER | 25:49 |
| BENNY KIM | 26:47 |
| ANGELA HANSON | 27:47 |
| MERCEDES | 28:45 |
| ENILDA INDYK | 29:07 |
| BEN | 30:15 |
| DEBBIE | 33:02 |
[/column]