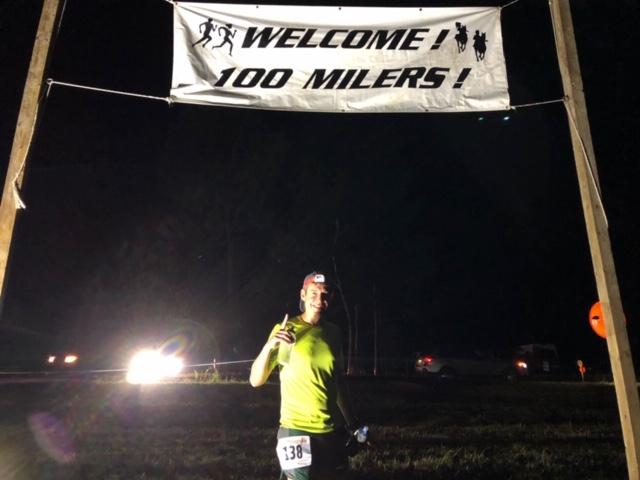 [column width="2/3″ title="" title_type="single" animation="none" implicit="true"]
By: Matthew Goldstein
July 2019
This race was held on the hottest day of the year. It was the same weekend they cancelled the NYC Triathlon. Temperatures exceeded 98 degrees with heat indices exceeding 112 degrees. Of the 321 starters less than half finished. In the 30 plus year history of this race this was the second lowest finishing rate.
It is early afternoon and I am at my lowest. There are plenty of hills on the course but this is the Mother Load. Dubbed "Agony Hill" fully exposed to the brutal sun at the hottest part of the day all alone, biting flies buzzing my head if there was a low point this was it. I was finished there was nothing more to give or prove or so I thought, but let's not get too far into the story so let me start from the beginning.
It's 2:03 AM and I am happy to have gotten 4 hours of solid sleep. I have a small breakfast and a quick shower and Ayako and I are off to the start of the Vermont 100 about a 40 minute drive from our hotel. We do the final mandatory check and at 4:00AM we are off. The miles begin to tick away and soon the first hint of light pierces the forest canopy. It was my first experience running on trails before sunrise and it is a moment I will never forget. The runners thinned our pretty quickly and by 5:30 I was running all alone. Pretty wild with over 300 runners starting the race to have no one around you after such a short time it was my first aha moment. This isn't going to be like anything I have run before.
I meet a man from Ohio. He tells me about his first Vermont 100 2 years ago when he dropped at mile 80. I pick his brain a bit and find out that this has been tormenting him for the past 2 years and he is back for redemption. I could feel the demons in his head and I took that piece of information and tucked it away. Let me stay on motivation for a bit. There were 3 motivating factors that played a tremendous part in my finishing this run. That was the 1st, the second was my son Rafa who had been so proud of me attempting this race that he would tell anyone and everyone over the past 4 months about his dad running this race. Even at times awkwardly questioning other kids parents if they could do that. How could I ever quit and disappoint him. The final motivating factor was listening to a podcast with ex-Navy Seal David Goggins and his 40% rule. To simplify things when you are completely done with nothing more to give you have only given 40%. Those 3 motivating factors kept me going and going and going.
Back to the run. I am coming up to mile 21 this will be the first time I will meet John and Ayako my crew. It will be another 4 hours until I see them again so this is a major refueling station. They will have all my gels and electrolyte nutrition I will need over that time period. There is just one catch they are not there. I had outrun them to the aid station and wasn't about to wait for them so I decide to head out. I would just use the electrolyte formula they had on the course. I had recently read an article on ultra-running and the first advice was Don't Panic. So that's what I did. I would see them at the next crewed aid station at about mile 30. It was the first time getting the full treatment of having a crew with me. Change of shoes (I would be crossing a river soon and I didn't want my only trail shoes to be wet so I was switching into an old pair of running shoes. I also would put on for the first time ice sleeves, ice bandana and put a small bag of ice under my hat. All this ice didn't really cool me but definitely kept me from overheating. I would see them again after the river crossing. That stop was the longest stop of the day as I needed to dry, clean, lube and tape my feet. The heat had become oppressive now.
Back to Agony Hill I wouldn't say I was relieved when I crested the hill what changed my mindset was that 2 horses–yes 2 horses this is the last 100 miler where horses and runners run the same course simultaneously. I heard the 2 riders talk amongst themselves about how brutal Agony Hill was. Then it clicked. They are riding horses and if it was that difficult for them and I had just done the same but on foot then every forthcoming hill has to be easier. Recovering from my low point I ran into the next aid station Margaritaville around mile 59 and everything changed. Up to that point I had strictly been taking electrolyte fluids and gels but I had also told myself before the race started I would go with what my body feels like. When I saw those cheeseburgers and the party like atmosphere with Jimmy Buffet blaring I felt like cheeseburgers. I remember sitting down and John asking me what can I get you and I am like cheeseburgers, cheeseburgers with ketchup and pickles. He brought me a plate I ate those and I asked him for more so he brought me more. Not satisfied I got up and went over the food spread. I enjoyed watermelon, boiled potatoes dipped in salt and just plain ice water. I told Ayako no more electrolytes when you see me next just ice water. I left that aid station a new man. The swings in an ultra are really amazing you can go from being completely down and out and wanting to quit to be fully energized 60 minutes later.
It was sometime after Margaritaville when I hear a horse coming up on me. The rider Donna introduces her horse Moose to me and goes on to tell me that Moose's buddy wasn't allowed to continue after the last mandatory horse hold and that Moose was feeling a little distraught. He had seen me walking up this hill by myself and hurried up to me because he needed a buddy. So there we were 60 something miles into this and both of us in need of a little company.
This gentle beast with the most kind brown eyes chose me to be his friend and I was so touched and grateful. Moose was on the quiet side but I could tell he understood everything I was saying. This was going to be his last VT100 he was 19 and getting up in years. I told him this was my first and hoped to have as many finishes as him one day. We talked about our favorite foods and what we were going to in the days following the race. It was so surreal walking so close to him talking like we had known each other for years. I met some incredible people on race day but my encounter with Moose stands alone and I truly believe meeting him had a direct impact on my strong finish.
Mile 70 my choice of food was sausages with onions and peppers this was also the last time I would sit. When I got up my legs had stiffened up and I could no longer run down hills easily. I felt like I do 2 days after the Boston Marathon where going downstairs is brutally painful and for just a moment I thought how am I going to run a marathon + heading into darkness on trails with my legs completely shot. As quick as that thought came into my head is as quick as I shook it out. I made it to the next aid station and picked up Ayako sometime close to midnight she was pacing me for the next 11 miles until her husband John would take over at mile 89.
Something happened to me running with Ayako. I changed into a beast I changed into one of the horses. I was getting stronger I remember passing Ayako at one point and she was breathing heavy, heavier than me and I could tell she was the one struggling a bit with the pace so I ran faster. At one point a runner mistook us as a horse because we were moving so fast. I would hit a hill and slow down and walk then immediately pick it up again on the flats. Now both John and Ayako had run this race before and John is an engineer and very good with numbers. We had run so fast and made up so much time that when we got there he was still in the car with their 19 month old son Alexander. He wasn't even ready to go. That was a huge boost mentally but I wasn't done yet.
Now finishing these races under 24 hours is a big deal and that was the goal at this point. He pushed me and told me we were going to be close and that we couldn't really afford to lose any of the time we had made up. I thought about how hard I had just run with Ayako but there was no easing up. He was relentless much like the course. He would say I see some headlamps Matt let's go catch them or when I needed to walk he would just start running and leave me no choice but to start back up. We passed so many runners during those wee hours in the morning. I was too tired to say anything but John would encourage them while I focused on John's footsteps. The first sign we were getting close to the end was a sign that read 1.5 miles to go. Then 1 mile and then ½ mile away and I will never forget what John said. "It's just 2 loops around the track that's it just 2 loops you got this!" I was giving maximum effort holding nothing back. With only a few minutes to go he said he could no longer run in front of me that this race was mine and that the people we could hear cheering at the finish line were waiting for me to finish not him. I get teary eyed just writing that last sentence. I crossed the line to the sound of a few cheers and bright lights. I went down to the ground to kiss the dirt and then sat there in amazement. We did it together I had just run 100 miles. John and Ayako had paced me to a finishing time of 23:18:44 good enough for 25th place overall.
[/column][column width="1/3″ last="true" title="" title_type="single" animation="none" implicit="true"]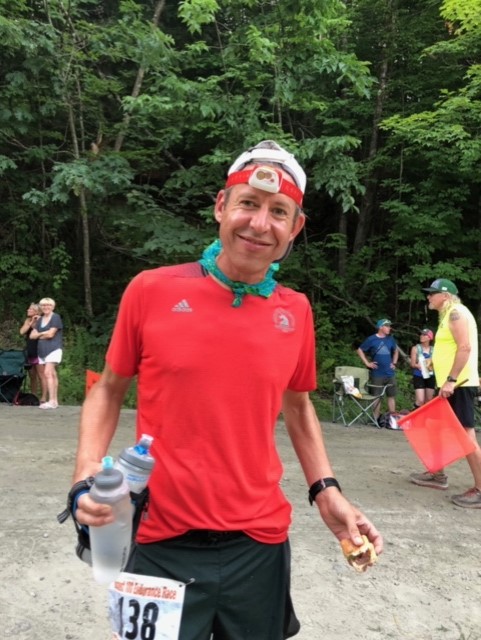 [/column]