Ladies, we know you have been waiting! Here's the 2015 Women's Distance Festival race shirt:
[column width="1/2″ title="" title_type="single" animation="none" implicit="true"]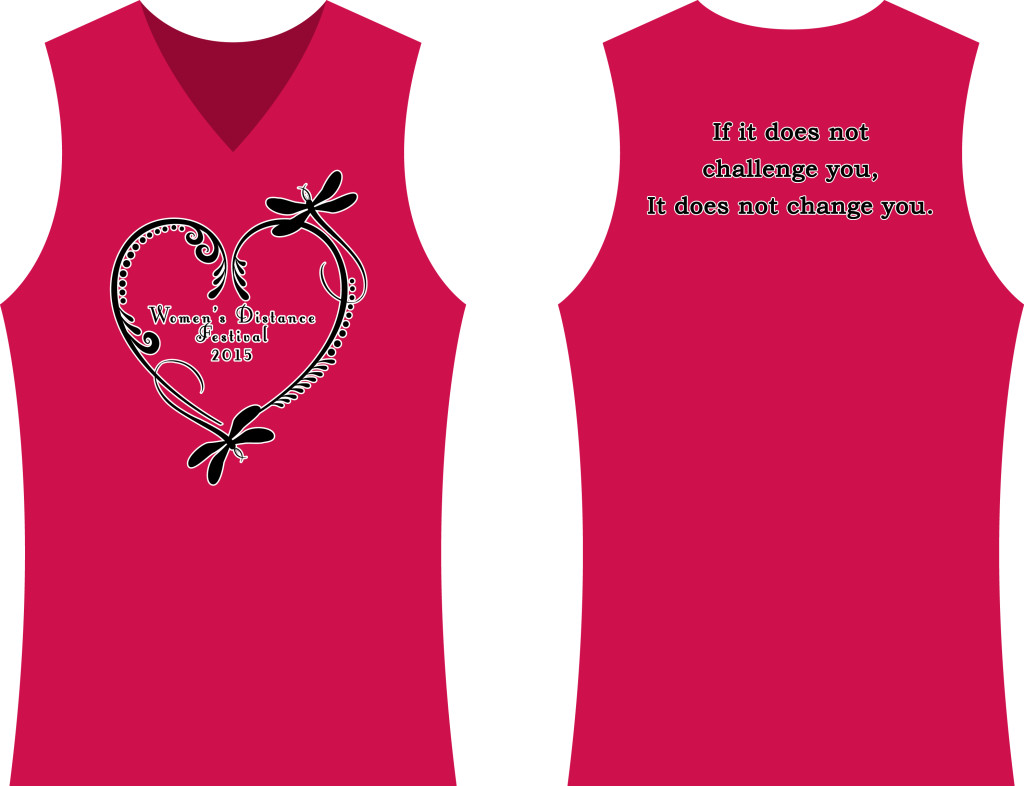 [/column][column width="1/2″ last="true" title="" title_type="single" animation="none" implicit="true"]
We would like to thank Claudia Cohen for the design and Kathy Payne who submitted the winning phrase in last year's contest "name the phrase" (for the back of the shirt):
"If it does not challenge you, it does not change you"
Kathy received a complimentary registration for this year's race, and has signed up already! Last year, the name the phrase contest was held after the race. This year, the contest will begin on June 25th, and the winning phrase will be announced during the awards ceremony. Whoever is selected as the winner will receive a complementary registration to the 2016 race! Once the contest begins, you may email your guess to wdf@rocklandroadrunners.org. To no one's surprise, the Race Director will send you a reminder or two!
Only those registered for the 2015 race are eligible for the contest.
Registration is already trending ahead of last year's record registration and only those who pre-register can be guaranteed a race shirt! Online registration closes Monday evening, July 6th.
[button id="" style="border-slanted" class="" align="center" link="https://runsignup.com/Race/NY/ValleyCottage/WomensDistanceFestival5KRunWalk" linkTarget="_self" bgColor="accent1″ hover_color="accent1″ font="18″ icon="arrow-right1″ icon_placement="right" icon_color="accent1″]ONLINE REGISTRATION[/button]
For all the men, we need you to help out! Come cheer your ladies on and support them in their race! To volunteer for the race, please email wdf@rocklandroadrunners.org
[/column]