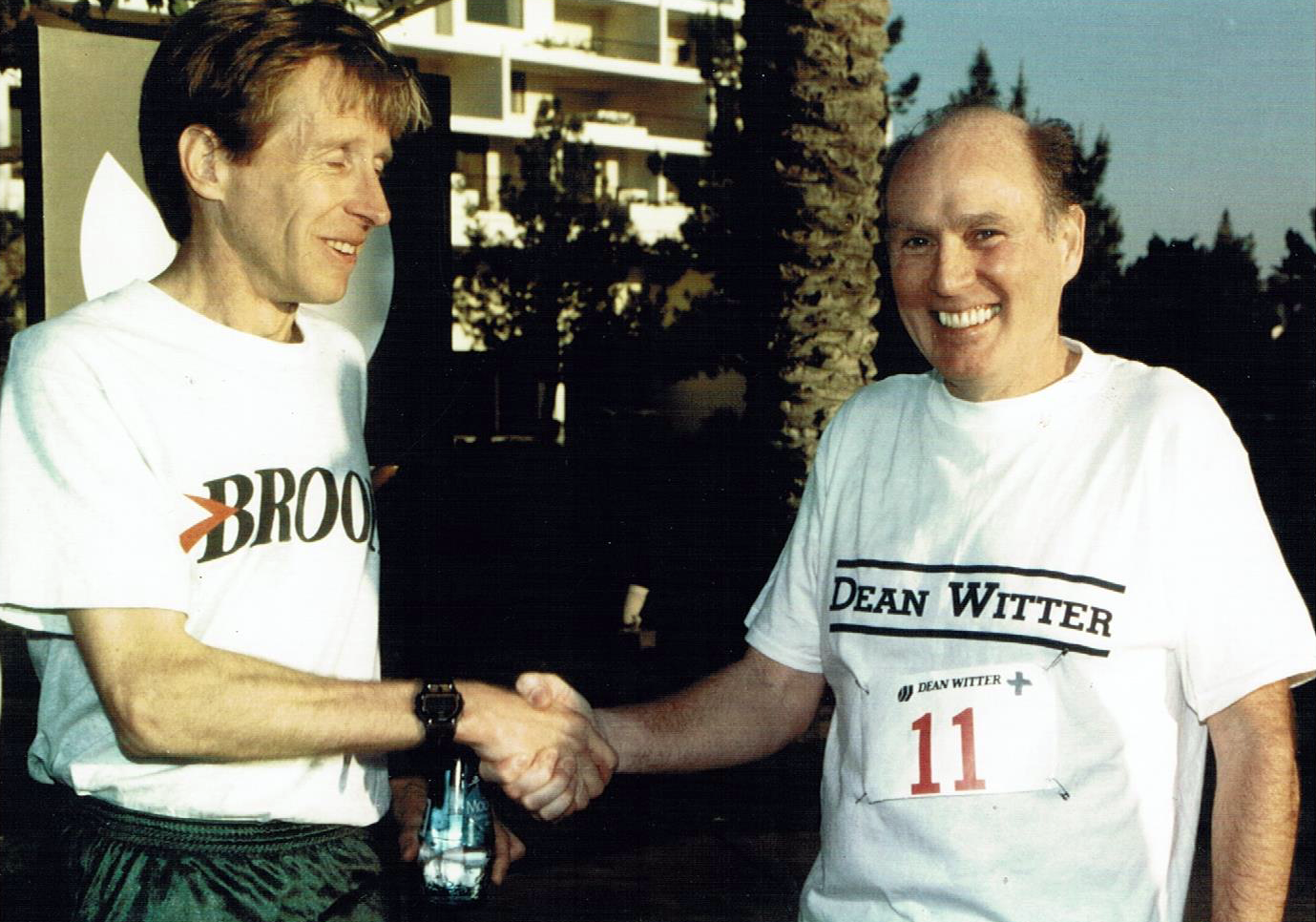 By: John Melican
Originally printed in RRR Runaround in 1994
I'm in an oasis in a California desert about to cross the finish line and I look back and see Bill Rogers who has won the Boston and New York marathons four times each, a safe distance behind. The president is cheering me on as I come in second overall in the race and first in the Masters Division. This may all sound like I'm dreaming, or for those of you who know me, a bit of malarkey. Actually it's all true, but with an explanation. You see, the location was Palm Springs, it was a corporate event, 50 or so runners in all, and the president is… of my company, not our nation and…most importantly, Bill Rogers was being the nice guy he is, letting us win.
Earlier in what I call a gab session, the 47-year-old Rogers sat around with many of us and talked about his running, offering advice and relating some of his personal experiences. He "only" runs 80 miles a week these days, down from his 130 miles when he was at his peak in the late seventies. Bill swears he's more a cookie-junkie than the junk-food junkie he has a reputation of being, and loves lots of bacon. Yes, he says it's true, that he did do things like put mayonnaise on his pizza years ago.
Since a good number of us are over forty, the issue of age taking a toll on our performance came up. A runner's prime years, according to Rogers, relate not so much to age as to when you begin and it may take ten years for that slowing down trend to appear.
So…if you started at 35, for example, you're more likely to be a better runner at forty. This pattern certainly fit me. I began at 40, my first marathon was at 46 and my best was at 50, in Boston. Today, years later, my PR of 3:15:44 in Boston will stay on the wall.
Bill declares that his biggest mistake in training for a marathon, was not understanding how much recovery time is needed, since older runners tend to underestimate the element of rest in training. However he emphasizes that during the race pacing is the most important tactic and never so important as in a marathon. It makes the difference in finishing or not.
When asked about his most satisfying race, it was the 1978 Boston Marathon, his PR of 2:09:28, in which he beat out the number one ranked runner in the world. His biggest disappointment was not in a race, as one might expect, but being prevented from running while at his best, when the USA boycotted the 1980 Olympics.
What advice would he offer beginners? Don't start running!! Don't be idiots and fools like the rest of us….Just kidding, I wanted to be sure you're paying attention.
Bill actually suggest that if you've never raced before, winning is easy, because finishing is winning! He says that no matter how slow you are, there will be someone slower and you won't come in last. Now he said that…I didn't.
I've saved the best of his advise for last because I know, that you will know, that he is talking to you. Most runners' ailments and injuries are self-inflicted. The stress of running itself is the cause of a high percentage of cases. Even viruses such as the common cold can occur because stress has broken down a body's natural defenses. At the root of running injuries lies stress because too much work is piled on a body not condi- tioned to handle such a load. So it stands to reason that if you can cause injuries, you can also prevent them. Prevention is as simple as running less when you're not up to it.
So, in closing, I will offer some advise. As the police sergeant on the TV series Hill Street Blues used to say when dismissing Roll Call "Let's be careful out there"